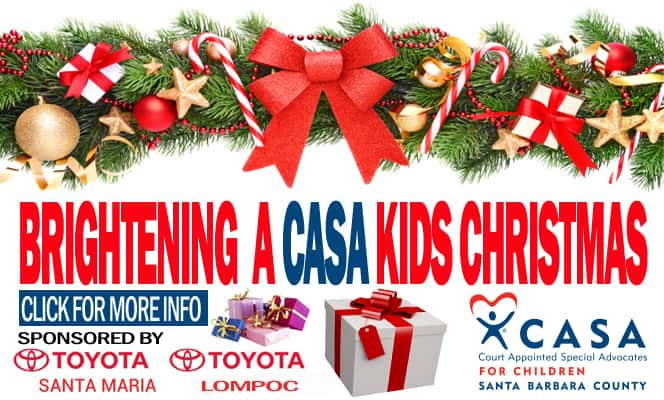 104.1 Pirate Radio, Toyota of Lompoc, and Toyota of Santa Maria want to brighten Christmas this year for kids who have been abused or neglected. In Santa Barbara County alone, there are about 500 kids who, through no fault of their own, are in the child welfare system and in need of some holiday cheer. Together with CASA (Court Appointed Special Advocates) we are asking you to be Santa for a CASA child this holiday season!
Just select a child to purchase items from their wish list. Then swing by the CASA office on Skyway Dr. in Santa Maria, Toyota of Lompoc, Klondike Pizza, or the Pirate Radio studios and drop off the gifts.
Together we can make a difference in the life of a child this holiday season! For more info visit SBCASA.ORG!
WISH LIST: 
Alana (Age 1) – Clothes size 3-6mos, shoe size toddler 3, favorite colors are purple, pink, teal, musical toys
Kyle (Age 1) – Molusk Mini Bilibos Baby toy, wooden wheels double decker red tour bus with 8 tourists, Indigo Jamm IIK8031, Colin's Camper Van playset
Joseph (Age 2) – Clothes size 18-24mos, age appropriate toys, books
Richard (age 3) – Shoe size toddler 8, 4T clothes, anything Disney's Cars specifically Lightning McQueen and Cruz Ramirez, race tracks, hot wheels, power wheel
Mary (Age 5) – Leap Pad or Leap Pad Ultimate (in pink or green), any kind of learning toys, books, Barbies
Alina (Age 6) – Clothes size large, pants size 8 in girls, jacket medium in kids, shoe size 11 in girls, favorite colors are pink and purple, rollerskates, arts and craft kits, needs a winter jacket, Hatchimals, likes to match clothes with her twin sister
Julie (Age 8) – Loves unicorns and puzzles, the color pink
Jasmine (Age 10) – Shirt size large, favorite color is red, comic books, drawing books, super heroes
Mia (Age 11) – Favorite colors are pink and black, size small in shirts, size 5 in pants, 7 in shoes. Special wish: scooter
Natalie (Age 13) – Black high top Vans size 7 in women's, checkerboard slip on Vans size 7 in women's, Levi skinny jeans 711 style size 24X30 dark blue wash'
Tina (Age 15) – Clothing size medium in women's, shoe size 6.5 in women's, horse back riding helmet
Robert (Age 16) – White Adidas hoodie size medium, white Nike shoes size 10.5 or 11, headphones/earbuds
Ana (Age 18) – Clothing size large in women's, show size 7.5 in women's, favorite color is black, she loves everything soccer, special request is new soccer cleats
Thanks to our sponsors